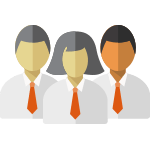 1. Eco-Committee
An Eco-Committee is made up of pupils and adults who work together to drive your Eco-Schools work
The Eco-Committee must include:
Pupils who are chosen or elected to represent different year groups and the whole school
A member of staff (the Eco-Coordinator) to support but not lead the committee
The Eco-Committee should also include the following where possible:
Head teacher or a member of the senior management team
School bursar
Other teacher(s)
Governor(s)
Parent(s)
Non-teaching staff member(s)
Caretaker or site manager
Representative(s) from local authorities
Member of the local community
What will the Eco-Committee be doing?
It will ensure that the whole school is aware of the Eco-Schools programme
Take the lead in carrying out the Environmental Review
Ensure that everyone in the school community is represented in the decision-making process (as far as possible)
Provide a link between pupils, teachers, senior management team, governors and the whole school community
Take the lead in delivering the Eco-Schools Action Plan
We recommend that the Eco-Committee meet at least every half-term. The committee must keep a record of their decisions and the minutes of their meetings which should then be reported back to the senior school management team and governor meetings.
Eco-Committee Meeting Minutes template