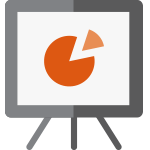 Developing an Action Plan
How to plan your project work.
Look at the results of your Environmental Review. Pick out which of the Eco-Schools nine topics you want to tackle. Decide what action you can take to improve these issues. These inspiring case studies and project ideas may help you out if you are a bit stuck.
Decide what your measure of success will be. Make sure the action you take is something you can measure. This will help you with your monitoring and evaluation step. For example, if you decide to tackle energy, your measure could be looking for a reduction in the school energy bills.
Decide timescales for each action. Do you want to achieve your target in a few weeks, by the end of the term/year, or is it longer term?
Assign people to be responsible for each action. This could be fellow pupils, staff or anyone else within the school community.
Complete your Action Plan. Do not be over-ambitious in the targets you set. Failing to meet targets or deadlines can be demotivating. Make sure that the whole school is involved in delivering your actions and that the headteacher supports your Action Plan.
If your Environmental Review has highlighted a large number of issues to address, do not feel you have to achieve them all at once – prioritise them, and divide the targets into short, medium and long term. It is much better to go forward in small steps and celebrate success frequently.